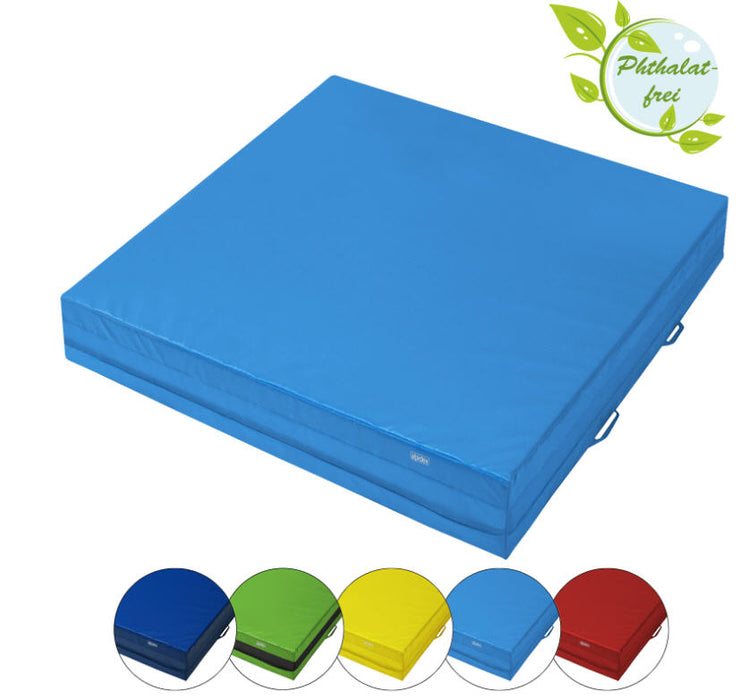 ALPIDEX soft floor mat Mini 100 x 100 x 25 cm
Original price
CHF 299.00
-
Original price
CHF 299.00
Mini soft floor mat 100 x 100 x 25 cm with handles and anti-slip floor from ALPIDEX
PHTHALATE FREE
Mat dimensions and material information
The soft floor mat has the following dimensions: 100 x 100 x 25 cm. This makes it ideal for children or as a seating area. All our mats are high-quality goods.
Soft resistance and core material
The top priority is to minimize the risk of injury. This mat is equipped with a special anti-slip base, which gives it a high level of slip resistance. The core consists of a high-quality polyurethane foam filling RG 20 (20 kg/m3). RG means density and reflects the degree of hardness of the mat. The higher the density, the smaller the cell structure, ie the harder the core.
mat cover
Externally, this mat is characterized by a non-slip gymnastics mat fabric on the underside and a seamless tarpaulin fabric on the top and sides. This tarpaulin consists of tear-resistant, skin-friendly plastic polyester fabric. In addition, the cover is equipped with firmly sewn carrying handles. This means that the mat can be parked vertically in cramped equipment rooms without any problems. A strong full polyester zipper allows the removal of the core.