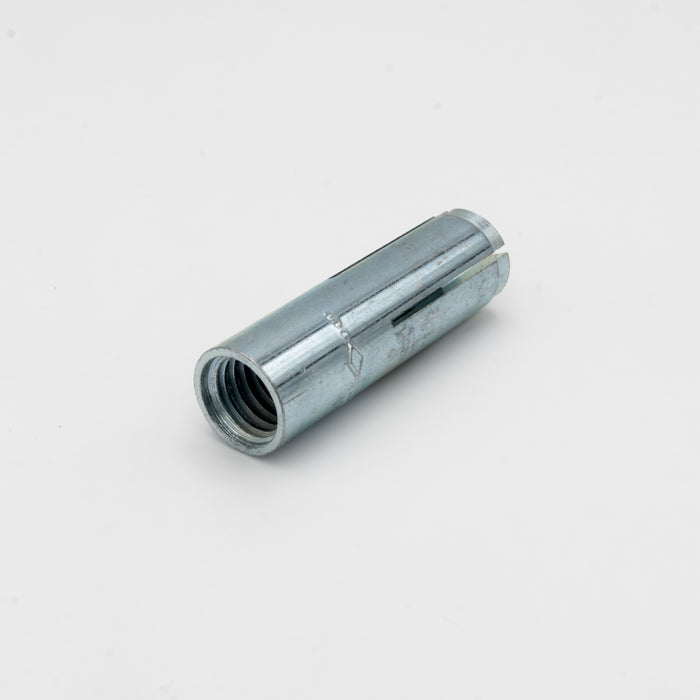 Drive-in anchor M 10
Original price
CHF 1.00
-
Original price
CHF 47.00
Availability:
in stock, ready to be shipped
Availability:
Out of stock
Availability:
Out of stock
Availability:
Out of stock
Drive-in anchor M10
The best solution for a climbing wall where the climbing holds are to be attached directly to the concrete wall
Drilling depth [mm] (anchoring depth, setting depth) 44
Drill hole diameter [mm] 12
Recommended load per dowel in non-cracked concrete [kN] incl. partial safety factor 3.0
Torque when anchoring 15
Thread diameter [mm] 10
Application:
The drop-in anchor is ideal for attaching climbing holds in non-cracked concrete.
Characteristics:
Impact anchors are suitable for all screws and threaded rods with a metric thread
The low setting depth reduces the drilling time and enables cost-effective assembly
After being hammered in, multiple removal or attachment is possible, since the anchor itself remains in the drilled hole
Galvanized
Approval ETA-04/0011 for anchoring in non-cracked concrete
Approval Z-21.1-1745 for anchoring light ceiling coverings
Fire protection tested
Montage

Als ersten Schritt legen Sie ein Raster an und markieren alle Stellen, wo später die Einschlagmuttern gesetzt werden sollen. Für Boulderwände empfiehlt sich ein Lochraster von 10 cm (Bedarf pro qm: 95 Einschlagmuttern oder 15 cm (Bedarf pro qm: 45 Einschlagmuttern), wobei jeweils die zweite Reihe versetzt zur oberen Reihe ist. Eine andere Variante ist, dass Sie genau so viele Einschlagmuttern verwenden, wie Sie Klettergriffe haben. Der Nachteil an dieser Variante ist, dass Sie wenig Umschraubmöglichkeiten an der Wand haben. Zudem müssten bei einer Erweiterung der Kletterwand für mehr Einschlagmuttern, die ganzen Platten wieder abmontiert werden.Nachdem markieren der Stellen für die Einschlagmutter, bohren Sie dort 12 mm Löcher. In diese wird die Einschlagmutter von der Rückseite in die Platte eingeschlagen. Für einen besseren Halt der Einschlagmutter, tragen Sie bitte einen speziellen Holz-Metall-Kleber auf die Mutter auf.