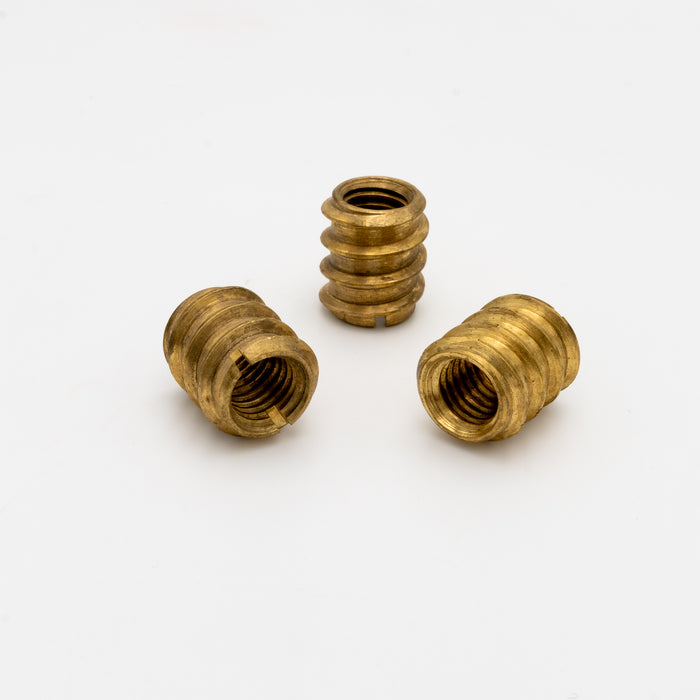 Screw-in nut M 10 for wooden walls
Original price
CHF 6.75
-
Original price
CHF 1,220.00
1 screw-in nut galvanized M10
Screw-in nuts are required for mounting climbing holds on a wooden wall. The screw-in nuts act as a counterpart to the hexagon socket screws.
When do you need screw nuts? assembly instruction?
Screw-in nuts are used when you cannot get to the back of the wooden panel or when the climbing holds are to be attached to a solid beam. To attach the screw nuts, drill a 12 mm hole with a wood drill (depth approx. 2 - 3 cm). Then clean the hole from the wood chips. Now screw the screw-in nut into the wood from the front using a slotted screwdriver (width at least 12 mm). As soon as the screw nut has sunk into the wood, you can attach the climbing hold to the wood.
Where are you not allowed to use screw nuts?
Screw-in nuts must NOT be used with OSB, USB, MSB boards or similar. This can easily lead to breakouts of the sleeve, since this wood is not of high quality.
Where can you use screw nuts?
Screw-in nuts may be used with normal wooden beams or with high-quality multi-layer boards (multiplex and screen-printed boards) if you can no longer access them from the back. The minimum thickness should be 30 mm. In addition, there should be a distance of at least 20 mm to the edge of the beam.
Characteristics:
- Material: Galvanized steel
- metric internal thread M10
- Cylinder head screw DIN EN ISO 4762 - M10 (DIN 912)
- Countersunk screw DIN EN ISO 10642 - M10 (DIN 7991)
Montage

Als ersten Schritt legen Sie ein Raster an und markieren alle Stellen, wo später die Einschlagmuttern gesetzt werden sollen. Für Boulderwände empfiehlt sich ein Lochraster von 10 cm (Bedarf pro qm: 95 Einschlagmuttern oder 15 cm (Bedarf pro qm: 45 Einschlagmuttern), wobei jeweils die zweite Reihe versetzt zur oberen Reihe ist. Eine andere Variante ist, dass Sie genau so viele Einschlagmuttern verwenden, wie Sie Klettergriffe haben. Der Nachteil an dieser Variante ist, dass Sie wenig Umschraubmöglichkeiten an der Wand haben. Zudem müssten bei einer Erweiterung der Kletterwand für mehr Einschlagmuttern, die ganzen Platten wieder abmontiert werden.Nachdem markieren der Stellen für die Einschlagmutter, bohren Sie dort 12 mm Löcher. In diese wird die Einschlagmutter von der Rückseite in die Platte eingeschlagen. Für einen besseren Halt der Einschlagmutter, tragen Sie bitte einen speziellen Holz-Metall-Kleber auf die Mutter auf.