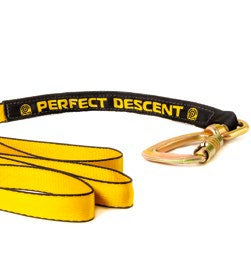 PERFECT DESCENT Direct Drive automatic belay device
Original price
CHF 220.00
-
Original price
CHF 272.00
Perfect Descent Direct Drive Auto Belay
Perfect Descent Climbing Systems' Direct Drive™ Auto Belay features a sealed housing, an industry leading price and is EN compliant. This model is the ideal automatic backup solution for applications where speed is not an issue. The Direct Drive™ is perfect for beginner routes, kid zones and programmed events. Equip your business more cheaply!
Budget friendly:
Perfect Descent is the cost leader in automatic fuses, offering the lowest average cost of ownership over the life of the device.
The lightweight and compact design reduces shipping costs when returning equipment for factory authorized service and recertification.
A growing network of factory authorized service centers makes it quick and easy to keep your equipment up and running and on the wall.
Craftsmanship, safety and innovation:
Perfect Descent auto belays are hand built in Colorado, USA, feature high quality stainless steel and aluminum bodies (no plastic) and are never mass produced.
Internal components are made of high-quality materials that stand up to repeated use and require little to no maintenance.
All devices undergo rigorous quality assurance before shipment and meet global safety standards.
Versatile and durable device housing:
Perfect Descents are the lightest and most compact modular auto belays on the market, a key feature for easy towing and assembly.
The new multi-point mounting handle offers flexible mounting options and independent securing lugs.
All units are sealed for excellent indoor and outdoor performance.
Keychains to fall in love with:
Changing the lanyard takes only a few minutes and can be performed by the end user on site.
Choose the lanyard length that best suits your needs: 28ft, 40ft, or 53ft (8.5m, 12.2m, or 16.1m).
High-quality nylon webbing is easier to use than cable-based systems and won't damage walls.
The built-in wear indicator takes the guesswork out of knowing when it's time to replace your lanyard.
An anodized aluminum nozzle is integrated into the lanyard for durability and performance.
Choose from two three-stage, pivoting carabiner options: aluminum for corrosive environments or for weight reduction, and alloy steel for durability. Or choose the dual-connection option with a rotating nylon Y-dogbone tether and two aluminum two-stage captive pin carabiners.
NOTE : User can replace long lanyards with shorter lanyards to accommodate lower mounting heights. Never replace a shorter lanyard with a longer lanyard as the device will not function properly. Longer lanyards can only be installed by C3 Manufacturing or an authorized service center.
IMPORTANT : Perfect Descent Auto Belays are designed as controlled descent devices used in vertical climbing activities and are not intended for use in bouncing activities that generate impact forces. Repeated shock loading of the device can damage the internal components and in some cases lead to device failure. The lanyard should always be equal to or longer than the expected mounting height. Units with an excessively long lanyard length may experience improper lanyard spooling, resulting in a jerky or rapid descent. Always choose the lanyard that best suits the mounting height and avoid using long lanyards on short walls.
specifications
Weight: 29 - 31 lbs (13.1 - 14.1 kg)
Case dimensions: 16 x 9.5 x 7.5 inches (40 x 24 x 19 cm)
Lanyard Retraction Speed: 2 ft/s (0.6 m/s)
Maximum rate of descent: 6.6 ft/s (2 m/s)
Minimum descent speed: 1.6 ft/s (0.5 m/s)
Case Material(s): Stainless steel, aluminum and acetal
Nozzle Material(s): Anodized Aluminum
Lanyard Material(s): 1" wide nylon webbing
Lanyard Breaking Strength: 3,500 lbs (15.6 kN)
Lanyard length(s): 28, 40, or 53 feet (8.5, 12.2, or 16.1 m)
User weight range: 25 - 310 lbs (11.5 - 140 kg)
certifications
ANSI/ASSE Z359.4: Safety Requirements for Assisted Rescue and Self-Rescue Systems, Subsystems and Components
Conforms to EN341:2011-1A/RFU PPE-R/11.128 Version 1 and EN360:2002. - Requires periodic recertification every 12 months or sooner as determined by a competent person
AS/NZS 1891: Industrial fall protection systems and devices - Part 3: Fall protection devices
CSA Z259.2.3-99: Descender control devices
Beschreibung Perfect Descent

Budgetfreundlich: 

Perfect Descent ist der Kostenführer bei automatischen
Sicherungen und bietet die niedrigsten durchschnittlichen Betriebskosten über
die Lebensdauer des Geräts.
Das leichte und kompakte Design senkt die Versandkosten bei
der Rücksendung von Geräten für den vom Werk autorisierten Service und die
Rezertifizierung.
Ein wachsendes Netzwerk von werksautorisierten
Servicezentren macht es schnell und einfach, Ihre Geräte in Betrieb und an der
Wand zu halten.

Handwerk, Sicherheit und Innovation: 

Perfect Descent Selbstsicherungen werden in Colorado, USA,
von Hand gefertigt, verfügen über ein hochwertiges Edelstahl- und
Aluminiumgehäuse (kein Plastik) und werden niemals in Massenproduktion
hergestellt.
Interne Komponenten bestehen aus hochwertigen Materialien,
die wiederholtem Gebrauch standhalten und wenig bis gar keine Wartung
erfordern.
Alle Geräte durchlaufen vor dem Versand eine strenge
Qualitätssicherung und erfüllen globale Sicherheitsstandards.

Vielseitiges und langlebiges Gerätegehäuse:
Perfect Descents sind die leichtesten und kompaktesten modularen Selbstsicherungen auf dem Markt, ein Schlüsselmerkmal für einfaches Ziehen und Montieren.

Der neue Mehrpunkt-Montagegriff bietet flexible Montageoptionen und unabhängige Sicherungsösen. Alle Einheiten sind für hervorragende Leistung im Innen- und Außenbereich versiegelt.

Schlüsselbänder zum Verlieben:
Der Wechsel der Verbindungsmittel dauert nur wenige Minuten und kann vom Endbenutzer vor Ort durchgeführt werden. 

Wählen Sie die Länge des Verbindungsmittels, die Ihren Anforderungen am besten entspricht: 8.5 m, 12.2 m oder 16.1 m. 

Hochwertiges Nylongewebe ist benutzerfreundlicher als kabelbasierte Systeme und beschädigt keine Wände. 

Die integrierte Verschleißanzeige macht das Rätselraten überflüssig, wenn Sie wissen, wann es Zeit ist, Ihr Schlüsselband zu ersetzen. 

Eine Düse aus eloxiertem Aluminium ist in das Verbindungsmittel integriert, um Haltbarkeit und Leistung zu gewährleisten. 

Wählen Sie aus zwei dreistufigen, schwenkbaren Karabineroptionen: Aluminium für korrosive Umgebungen oder zur Gewichtsreduzierung und Stahllegierung für Langlebigkeit. Oder wählen Sie die Dual-Connection-Option mit drehbarem Y-Dogbone-Halteband aus Nylon und zwei zweistufigen, unverlierbaren Pin-Karabinern aus Aluminium. 

HINWEIS: Der Benutzer kann lange Verbindungsmittel durch kürzere Verbindungsmittel ersetzen, um niedrigeren Montagehöhen gerecht zu werden. Ersetzen Sie niemals ein kürzeres Verbindungsmittel durch ein längeres Verbindungsmittel, da das Gerät nicht richtig funktioniert. Längere Verbindungsmittel können nur von C3 Manufacturing oder einem autorisierten Servicecenter installiert werden. 

WICHTIG: Perfect Descent Auto Belays sind als kontrollierte Absenkvorrichtungen konzipiert, die bei vertikalen Kletteraktivitäten verwendet werden, und sind nicht für den Einsatz bei springenden Aktivitäten geeignet, die Stoßkräfte erzeugen. Wiederholte Stoßbelastung des Geräts kann die internen Komponenten beschädigen und in einigen Fällen zum Ausfall des Geräts führen. Das Verbindungsmittel sollte immer gleich oder länger als die erwartete Montagehöhe sein. Bei Einheiten mit einer übermäßig langen Verbindungsmittellänge kann es zu einem unsachgemäßen Aufspulen der Verbindungsmittel kommen, was zu einem ruckartigen oder schnellen Abstieg führen kann. Wählen Sie immer das Verbindungsmittel, das der Montagehöhe am besten entspricht, und vermeiden Sie die Verwendung langer Verbindungsmittel an kurzen Wänden. 

Spezifikationen

Gewicht: 13,1 - 14,1 kg
Gehäuse Abmessungen: 40 x 24 x 19 cm
Aufrollgeschwindigkeit des Lanyards: 4,6 m/s
Maximale Abstiegsgeschwindigkeit: 2 m/s
Minimale Abstiegsgeschwindigkeit: 0,5 m/s
Gehäusewerkstoff(e): Edelstahl, Aluminium und Acetal
Material der Düse(n): Eloxiertes Aluminium
Material der Leine(n): 2,5 cm breites Nylongurtband
Bruchfestigkeit des Lanyards: 15,6 kN
Lanyard-Länge(n): 8,5, 12,2 oder 16,1 m
Benutzergewichtsbereich: 11,5 - 140 kg

Zertifizierungen
ANSI/ASSE Z359.4: Sicherheitsanforderungen für assistierte Rettungs- und Selbstrettungssysteme, Subsysteme und Komponenten
Entspricht EN341:2011-1A/RFU PPE-R/11.128 Version 1 und EN360:2002. - Erfordert eine regelmäßige Rezertifizierung alle 12 Monate oder früher, wie von einer kompetenten Person festgelegt
AS/NZS 1891: Industrielle Absturzsicherungssysteme und -vorrichtungen - Teil 3: Absturzsicherungsvorrichtungen CSA Z259.2.3-99: Abseilkontrollgeräte