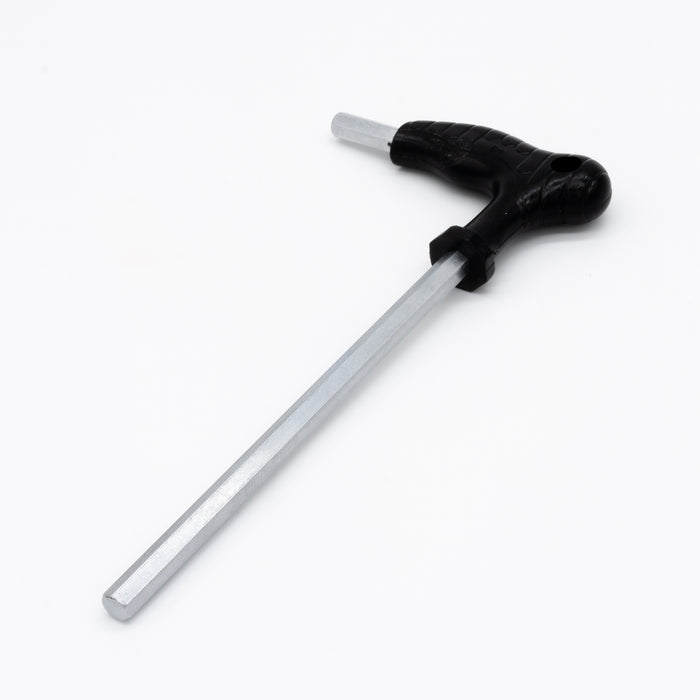 Hex key professional 2.0 size 8 for climbing holds
Original price
CHF 14.95
-
Original price
CHF 14.95
Availability:
in stock, ready to be shipped
This completely redesigned hex wrench Professional 2.0 specifically addresses the needs of climbing.
With the small hexagonal profile on the plastic handle, climbing holds with a normal deep drill hole can be tightened very well, since the long hexagonal profile achieves a very good leverage effect.
With the extra-long hexagonal profile, on the other hand, large climbing holds with very deep screw holes can be attached without any problems. If the leverage of the plastic handle is actually not sufficient for a climbing hold, the climbing hold can also be tightened with a size 20 wrench or pliers. For this purpose, an octagon is attached to the end of the plastic handle (see detailed picture).
In addition, the wrench has a hole through which an accessory cord can be easily threaded so that it can be easily attached to the carabiner.
Advantages of this wrench at a glance:
Easy handle attachment due to good leverage
Simple attachment of climbing holds with very deep holes
Convenient to transport with the hole in the T-handle
Montage

Als ersten Schritt legen Sie ein Raster an und markieren alle Stellen, wo später die Einschlagmuttern gesetzt werden sollen. Für Boulderwände empfiehlt sich ein Lochraster von 10 cm (Bedarf pro qm: 95 Einschlagmuttern oder 15 cm (Bedarf pro qm: 45 Einschlagmuttern), wobei jeweils die zweite Reihe versetzt zur oberen Reihe ist. Eine andere Variante ist, dass Sie genau so viele Einschlagmuttern verwenden, wie Sie Klettergriffe haben. Der Nachteil an dieser Variante ist, dass Sie wenig Umschraubmöglichkeiten an der Wand haben. Zudem müssten bei einer Erweiterung der Kletterwand für mehr Einschlagmuttern, die ganzen Platten wieder abmontiert werden.Nachdem markieren der Stellen für die Einschlagmutter, bohren Sie dort 12 mm Löcher. In diese wird die Einschlagmutter von der Rückseite in die Platte eingeschlagen. Für einen besseren Halt der Einschlagmutter, tragen Sie bitte einen speziellen Holz-Metall-Kleber auf die Mutter auf.