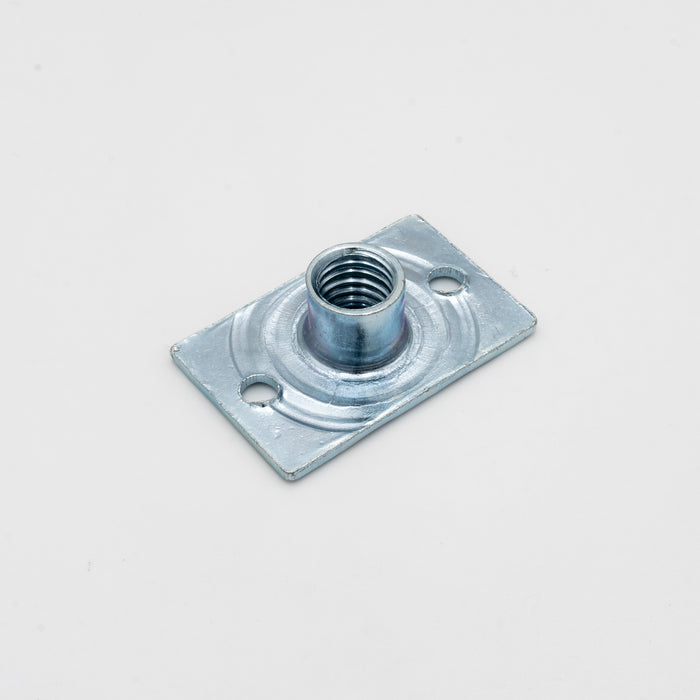 Special drive-in nut M10 "PROFESSIONAL" galvanized
Original price
CHF 9.96
-
Original price
CHF 359.90
1 special drive-in nut "PROFESSIONAL"
Flange nuts M10
M10 fastening with chipboard screws
Drive-in nuts are required for mounting climbing holds on a wooden wall. The drive-in nuts act as a counterpart to the hexagon socket screws.
The big advantage of the special "PROFESSIONAL" drive-in nut is that it is not driven in, but is fastened from the back with two chipboard screws. This means that a drive-in nut will NEVER come loose from your climbing wall again!
Characteristics:
- Material: Galvanized steel
- metric internal thread M10
- thick-walled version (plate thickness approx. 2 mm)
- Nut height (including plate): approx. 12.0 mm
- Required pre-drilling diameter: approx. 12 mm
- Attachment of the special drive-in nut with 2 chipboard screws (approx. 4 mm diameter)
- Fastening of the climbing holds with an ordinary M10 screw
Conclusion:
The special impact nut "PROFESSIONAL" offers you a high-quality alternative to the normal impact nut. It also has advantages over other special drive-in nuts that are mounted with 4 chipboard screws. The reason for this is not only the halved amount of work involved in fastening the special "PROFESSIONAL" drive-in nut, but also its resilience. Because the two holes for the chipboard screws have a much larger diameter than the four holes in a conventional special drive-in nut. This means that thicker screws can be used when assembling the "PROFESSIONAL", giving your climbing holds the best possible hold.
Assembly:
As a first step, create a grid and mark all the places where the special drive-in nuts are to be set later. For bouldering walls, we recommend a hole pattern of 10 cm (required per square meter: 95 drive-in nuts) or 15 cm (required per square meter: 45 drive-in nuts), with the second row being offset to the top row. Another variant is that you use as many impact nuts as you have climbing holds. The disadvantage of this variant is that you have relatively few screwing options on the wall. In addition, if the climbing wall were expanded for more drive-in nuts, the entire plates would have to be removed again. After marking the locations for the drive-in nuts, drill 12 mm holes there. The special "PROFESSIONAL" drive-in nut is inserted into the hole from the back and then fastened with the two chipboard screws.
Montage

Als ersten Schritt legen Sie ein Raster an und markieren alle Stellen, wo später die Einschlagmuttern gesetzt werden sollen. Für Boulderwände empfiehlt sich ein Lochraster von 10 cm (Bedarf pro qm: 95 Einschlagmuttern oder 15 cm (Bedarf pro qm: 45 Einschlagmuttern), wobei jeweils die zweite Reihe versetzt zur oberen Reihe ist. Eine andere Variante ist, dass Sie genau so viele Einschlagmuttern verwenden, wie Sie Klettergriffe haben. Der Nachteil an dieser Variante ist, dass Sie wenig Umschraubmöglichkeiten an der Wand haben. Zudem müssten bei einer Erweiterung der Kletterwand für mehr Einschlagmuttern, die ganzen Platten wieder abmontiert werden.Nachdem markieren der Stellen für die Einschlagmutter, bohren Sie dort 12 mm Löcher. In diese wird die Einschlagmutter von der Rückseite in die Platte eingeschlagen. Für einen besseren Halt der Einschlagmutter, tragen Sie bitte einen speziellen Holz-Metall-Kleber auf die Mutter auf.