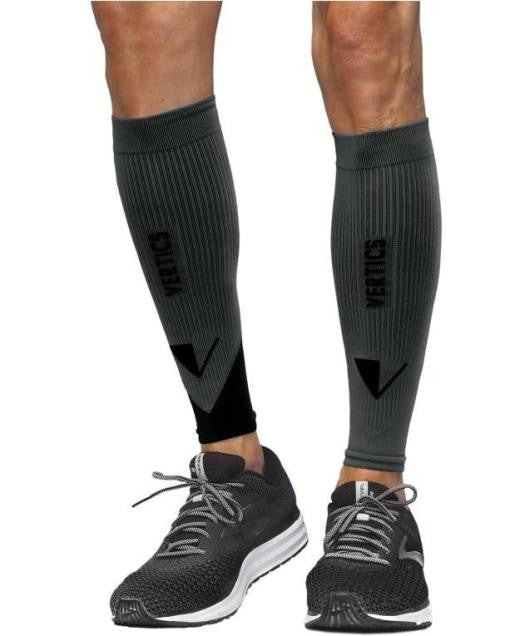 Vertics Calfs compression sleeves for calves
Original price
CHF 55.60
-
Original price
CHF 55.60
VERTICS.Calfs mode of action
The compression of the muscles improves blood circulation and thus ensures more endurance, less pump in the compressed area and a shorter regeneration time.
Thus, the athletes can carry out more intensive training sessions and increase their performance. And then in connection with faster regeneration.
Wearing VERTICS.Calfs compression cuffs on the calves prevents the muscles from oscillating too much under stress and thus protects the musculoskeletal system when running or hiking.
Whether you're hiking or running, calf compression reduces fatigue and keeps legs fresher for longer. Especially when going downhill on long hikes, the legs feel much lighter and the calves don't cramp as quickly.
The circulation in the calf muscles is also supported when traveling and when sitting for long periods of time and the risk of thrombosis can be reduced.
This also applies to standing for a long time at work or, for example, when SUP - Stand Up Paddling.
VERTICS.Calfs calf compression sleeves in 3 colors and 4 sizes each
A VERTICS.Calfs set consists of 2 compression sleeves with 2 different designs. When choosing the size of the sleeves, choose your calf circumference, measured at the widest point.
Developed and produced "Made in Germany"
The development of the compression cuffs took place with our partner, who has had the know-how and in-depth experience in the production of compression goods in the medical, orthopedic and sports sectors for generations. The technical execution and design of the compression process and the compression properties are decisive for the mode of action.
The know-how gathered over the last few years with our VERTICS.Sleeves , the forearm muscle compression sleeves, has also flowed into the development of the calf sleeves
Developed and produced in Germany, we continue to follow the motto " 100% Made in Germany ". We keep what has proven itself in recent years and ensure the exact compression process through constant quality controls. This is absolutely necessary for muscle compression to be effective and ensures the functionality of our compression products.
VERTICS.Calfs product features